UPDATE 6: This also works for the new 4.10.209.0 (KB3209361) as noted here that version is released as REVISION rather than a new version. 
UPDATE 5: This also works for 4.10 (4.10.207.0 or KB3199963 as of 11.11.2016). Again placed as noticed in UPDATE 3 of this article. Just as an addition: the error code I receive is 8004FF04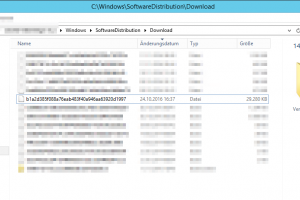 UPDATE 4: This also works for 4.9 (4.9.219.0) or KB3153224 as of 14.04.2016. It was again placed as noticed in UPDATE 3 of this article.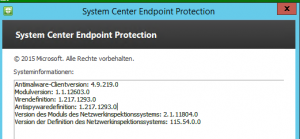 UPDATE 3: This also works for 4.9 (4.9.218.0) or KB3106514 (no Support-Link as of yet)  as of 08.03.2016 (08/03/16). The update was conveniently placed in C:\Windows\SoftwareDistribution\Download\Install as SCEPInstall.exe for me. This of course makes it a lot easier. If you do not have this folder, the solution below still works.
UPDATE 2: This also works for 4.8 (4.8.204.0) or KB3049560 as of 13.05.2015 (13/05/15).  Hint: Finding the KB for this was mostly guesswork, since somebody at the WSUS-Department screwed up the KB. My WSUS and my SCCM is telling me the KB number is 304956 – note the missing 0. Size of the update is 8.44 MB and 8.65 MB on drive.
UPDATE: This also works for 4.7 (4.7.209.0) or KB3036437 as of 05.03.2015 (05/03/15)
DISCLAIMER: This is provided as is! Microsoft will not support any of the procedures I'm about the explain. In fact I don't recommend you using this in a productive environment ever
THIS INSTRUCTION IS PROVIDED "AS IS" AND THE AUTHOR DISCLAIMS ALL WARRANTIES WITH REGARD TO THIS INSTRUCTION INCLUDING ALL IMPLIED WARRANTIES OF MERCHANTABILITY AND FITNESS. IN NO EVENT SHALL THE AUTHOR BE LIABLE FOR ANY SPECIAL, DIRECT, INDIRECT, OR CONSEQUENTIAL DAMAGES OR ANY DAMAGES WHATSOEVER RESULTING FROM LOSS OF USE, DATA OR PROFITS, WHETHER IN AN ACTION OF CONTRACT, NEGLIGENCE OR OTHER TORTIOUS ACTION, ARISING OUT OF OR IN CONNECTION WITH THE USE OR PERFORMANCE OF THIS INSTRUCTION. – You have been warned.
You may or may not know that there is a trigger to install a SCEP Client on a Windows Server Essentials 2012 R2 – but what about updates? If you try to install the Update from October (Version 4.6.0305.0) the update will fail – for obvious reasons. On top of that the Update 2998627 which includes the Updatepackage is not available on the Microsoft Windows Update Catalog Website. So what now? I'll go on just as this article started: As you may or may not know there is a Cache-Folder for WIndows Updates located at C:\Windows\SoftwareDistribution\Download. This Folder holds a bunch of cryptic Hash-Values – take a note of the filesizes here. The Update shows up as 8,4 MB – lets check if there is a file which has roughly the same size (we all know Windows doesn't really do a good job rounding up)

Bingo! So just to don't disturb any Windows Update Services copy this file to a convenient place (like C:\) and rename it to scepinstall.exe (or whatever you prefer). Get an administrative CMD running and do scepinstall.exe /disableoslimit
Wohoo!