[lastupdated]
Please accept YouTube cookies to play this video. By accepting you will be accessing content from YouTube, a service provided by an external third party.
If you accept this notice, your choice will be saved and the page will refresh.
Selbst, wenn es beliebige andere Straße sein sollte, klasse Aktion. "Bad Boys, we ain't going no-where" passend! Ich sehe nur allzu oft solche Videos ins Leere laufen. Ich versuche mich dann immer auch in die Gegenseite zu versetzen. Will die Stadt tatsächlich nur Geld? Stehen eventuell Verschönerungen an, weil das Gebäude vom Anblick her stört? Macht es auf 20 Jahre vielleicht mehr Sinn, den Neubau zu finanzieren als unsinnige Sanierungskosten in ein zerfallendes Gebäude zu stecken (200k in diesem Fall)?
Ich finde persönlich, dass solche Bürgerinitiativen immer irgendwie im Sande verlaufen. Findet die Initiative – und sei sie noch so clever – keine Beachtung im breiten Volk, welches, dann wiederum das öffentliche ansehen der Stadt mehr schädigt als der Abriss, ist die Aktion zum scheitern verurteilt. Mal ehrlich, ich hätte kein weiteres Einkaufszentrum gebraucht und das kommende Theater macht die Sache nicht besser. Da hilft auch kein Harlem Shake   um das Gebäude besser aussehen zu lassen inmitten der anderen Gebäude älteren Baujahres. Selbst Google-Maps scheint zu wissen, wie viele Koblenzer den entstandenen Glaskasten einstufen.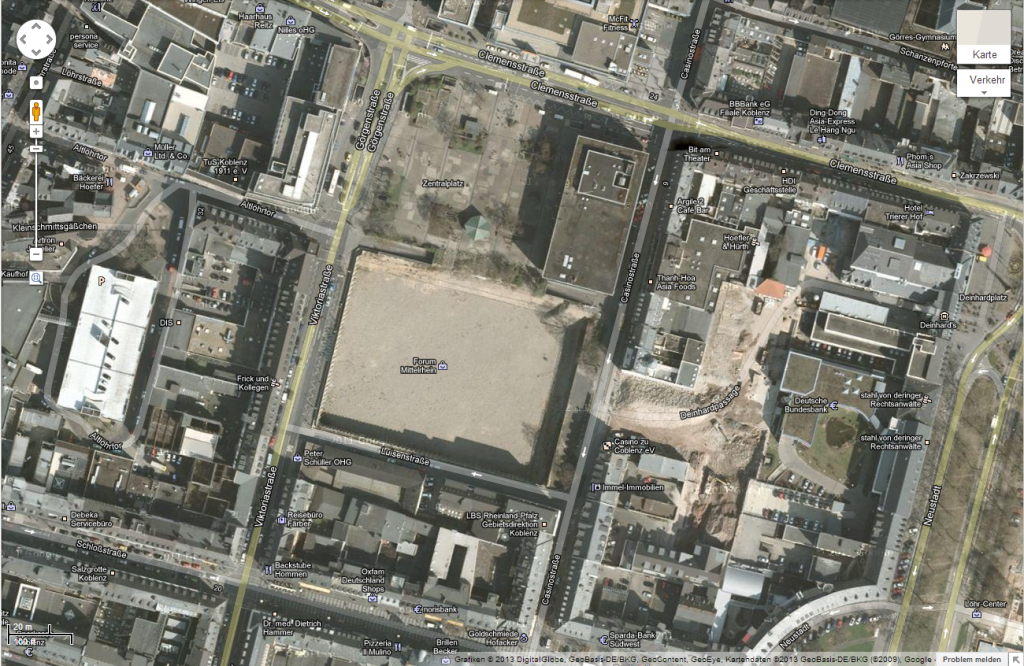 Ich wünsche München einen Dialog zwischen den Parteien – durchaus auch öffentlich. 20.000 Stimmen (und damit 1/5 der Einwohner) ad-acta zu legen muss ja nicht sein.
UPDATE: Ich hätte mir vielleicht mal vor längerer Zeit ansehen sollen ob was daraus geworden ist. Tatsächlich finde ich das hier nach kurzer Suche: Sieg für die Gorillas